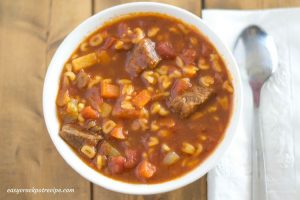 Crock Pot Alphabet Soup with Beef
Yield 4-6 servings
Just because your grown up doesn't mean you can't enjoy one of your favorite foods you ate as a kid. This Crock Pot Alphabet Soup is the grown up version of your favorite canned soup from childhood.
Ingredients
1 lb lean beef stew meat
14 oz can diced tomatoes
14 oz can tomato sauce
1 cup water
15 oz can mixed vegetables, drained
1/2 cup Alphabet shaped pasta
Instructions
Put the first 4 ingredients into a 3 quart crock pot.
Cook on low 5-6 hours or high 3-4 hours.
Add the mixed vegetables and pasta to the crock pot and cook until the vegetables are heated through and the pasta is cooked el dente, about 30 minutes.
If soup is overly thick add 1/2 to 1 cup of water.
Salt and pepper to taste.
Makes 4-6 servings.
Courses Main
Cuisine American
Amount Per Serving
Calories 181
% Daily Value
Recipe by Easy Crock Pot Recipe at https://www.easycrockpotrecipe.com/crock-pot-alphabet-soup/