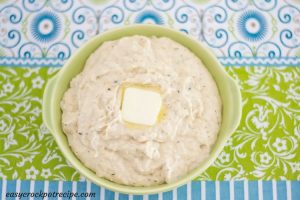 Crock Pot Cheesy Buttermilk Ranch Mashed Cauliflower
Yield 2-3 servings
Craving cauliflower? On a low carb diet and looking for another delicious fresh cauliflower recipe? Then look no further this is the best mashed cauliflower recipe you will ever taste and it's so easy to make when you cook it in a slow cooker.
Ingredients
small head cauliflower, leaves and stem removed
1 envelope Ranch Dressing mix or 1 tablespoon homemade ranch dressing mix
1 teaspoon freshly cracked pepper
1/2 cup water
4 oz softened cream cheese
1/2 cup shredded white sharp cheddar cheese
1/3 cup buttermilk
Instructions
Place all the first 4 ingredients into a crock pot, cover and cook on high 3-4 hours or low 4-5 hours depending the size of cauliflower head you are slow cooking. Cauliflower should be very fork tender.
Once the cauliflower is ready add the cream cheese, white sharp cheddar cheese and buttermilk to the crock pot. Using a large spoon mix the ingredients together. The cauliflower should fall apart as you mix.
Recover and heat for 10 minutes on low until the cheeses have melted.
Beat the cauliflower using a hand mixer either right in the slow cooker or transfer it to a bowl before beating. Beat until the large pieces of cauliflower have been broken down and the mashed cauliflower is creamy.
Salt and pepper to taste.
Recipe can be doubled if using a large head of cauliflower.
Make 2 - 3 servings when using a small head of cauliflower.
Courses Side Dish
Cuisine American
Recipe by Easy Crock Pot Recipe at https://www.easycrockpotrecipe.com/crock-pot-cheesy-buttermilk-ranch-mashed-cauliflower/