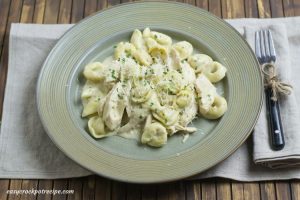 Crock Pot Chicken Alfredo Tortellini
Yield 4-6 servings
This Crock Pot Chicken Alfredo Tortellini recipe is creamy and delicious! and only has 4 ingredients! It is one of the easiest crock pot slow cooker recipes you'll ever make.
Ingredients
2 to 2 1/2 lbs. boneless chicken breasts
15 oz jar of creamy Alfredo sauce (I used Bertolli's Creamy Basil Alfredo Sauce)
19 oz package of frozen cheese tortellini
1 cup shredded mozzarella cheese
Instructions
Place the chicken breasts  into a crock pot in a single layer . I used my favorite Crock Pot Casserole Slow Cooker.
Pour half the jar of Alfredo sauce over the chicken breasts.
Cover the crock pot and cook on low for 4-5 hours or high for 3-4 hours. Cooking time will depend on the thickness of the chicken pieces. Occasionally check for done-ness.
When the chicken is cooked through use two forks to shred the chicken pieces.
Cook the tortellini following the directions on the package. I followed the microwave cooking directions and the tortellini was cooked perfectly in just 5 minutes.
Add the cooked tortellini, the remaining Alfredo sauce and shredded cheese to the crock pot.
Mix well and recover the crock pot. Allow the cheese to melt and the tortellini and Alfredo sauce to come to the same temperature.
Serve with a bit of fresh grated Parmesan cheese if desired.
Makes 4-6 servings.
Courses Main
Cuisine Italian
Recipe by Easy Crock Pot Recipe at https://www.easycrockpotrecipe.com/crock-pot-chicken-alfredo-tortellini-recipe/