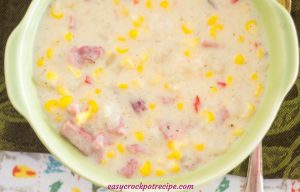 Crock Pot Corn Chowder with Ham
Yield 2-4 servings
Crock Pot Corn Chowder is one of those recipes you know everyone in the family will love. Why wouldn't they? It has the kind of ingredients everyone in the family loves and is easy to make. It is a perfect crock pot recipe for busy moms.
Ingredients
2 1/2 cups milk
2 cups frozen southern style hash browns
10 oz bag frozen corn kernels, I used Birds Eye Steam Fresh Fiesta Lime
10 oz can cream of mushroom soup
1 cup cooked ham cubes
1/4 cup diced red bell pepper
salt and pepper to taste
Instructions
Put all the ingredients into a 4 quart crock pot slow cooker.
Cook on low for 7-8 hours or high for 4-5 hours.
Serves 4 but can be doubled.
Courses Main
Cuisine American
Recipe by Easy Crock Pot Recipe at https://www.easycrockpotrecipe.com/crock-pot-corn-chowder-with-ham/