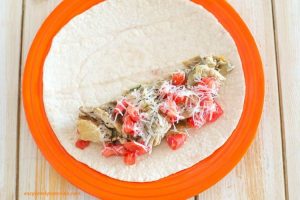 Crock Pot Greek Chicken Wraps
Yield 6-8 Wraps
I love the flavor combo of chicken cooked with olive oil, onions, garlic and oregano that comes together and makes this moist and tender Crock Pot Greek Chicken Wraps recipe so good. . Add some fresh toppings and you can make a delicious Greek chicken wrap or use fresh pita bread and make Greek gyros
Ingredients
2 lbs boneless skinless chicken thighs
4-6 red potatoes
1 medium onion, cut into quarters
6 garlic cloves, slightly crushed
1 tablespoon dry oregano flakes
1/2 teaspoon salt
1/2 teaspoon black pepper
1 tablespoon olive oil
Parmesan cheese
Mozzarella cheese
Italian dressing
chopped tomatoes
diced cucumber
6-8 flour tortillas
Instructions
Cut the potatoes into quarters and place them into the bottom of a slow cooker.
Place the boneless chicken thighs on top of the potatoes.
Add the quartered onion and crushed garlic to the crock pot.
Sprinkle the oregano, salt and pepper over the top of the ingredients.
Drizzle with the olive oil.
Cook on low for 5-6 hours or high 3-4 hours.
Chicken is cooked through when an internal temperature of 165 degrees has been reached.
To Make Greek Chicken Wrap
Shred the chicken and mix with the rest of the ingredients in the slow cooker.
For each serving warm a tortilla, spread about 1/2 cup of the chicken down one edge of the tortilla.
Grate fresh Parmesan cheese over the wrap filling, drizzle with Italian seasoning and roll wrap around filling.
Serves 4-6.
Courses Dinner
Cuisine Greek
Amount Per Serving

Calories 434

% Daily Value

Cholesterol 53.6 mg

18%

Total Carbohydrates 62 g

21%

Sugars 5.6 g
Recipe by Easy Crock Pot Recipe at https://www.easycrockpotrecipe.com/crock-pot-greek-chicken-wraps/