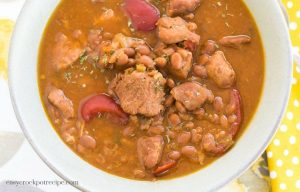 Crock Pot Pork Baked Bean Soup
Yield 6 servings
Serve this hearty Crock Pot Slow Cooker Pork Baked Bean soup recipe to the guys and they will love you forever.
Ingredients
2 lbs pork stew meat
53 oz can of Pork and Beans I used Van de Kamp brand
14 oz can stewed tomatoes
small onion finely chopped
1 cup brown sugar
1 teaspoon salt
Instructions
Put all the ingredients into a 4 quart crock pot and cook on low 6-8 hours.Makes 6 servings.
Serve with crusty french bread or crackers.
Courses Main
Cuisine American
Recipe by Easy Crock Pot Recipe at https://www.easycrockpotrecipe.com/crock-pot-pork-baked-bean-soup/